International Workshop on Information & Operational Technology (IT & OT) Security Systems
(IOSec 2022)
to be held in conjunction with the 17th International Conference on Availability, Reliability and Security
(ARES 2022 – http://www.ares-conference.eu )
August 23 –  August 26, 2022
The recent advancements of ICT have given the opportunity to companies, public administrations and various Critical Infrastructures to offer new and innovative services and at the same time lower their operational costs. These advancements, however, were quickly adopted without proper evaluation of their impact on security, leaving current IT (Information Technology) and OT (Operation Technology) systems vulnerable to various kinds of cyberattacks. Furthermore, cybersecurity protection of IT and/or OT networks, data and storage areas in small and medium enterprises (SMEs) is also problematic since such companies do not have the resources, expertise as well as funds to support and maintain cybersecurity operations in their premises. The International workshop on Information & Operational Technology (IT & OT) security systems 2022 aims to bring together viewpoints from diverse areas to explore the commonalities of security problems and solutions for advancing the collective science and practice of IT and OT security protection as well as promote security awareness and cybersecurity solutions for the SME community.
IOSec is organized by the HEIR, SENTINEL and AI4HealthSec EU-funded projects.
Topics of interest include, but are not limited to
Security architectures and frameworks for enterprises, SMEs, public administration, or critical infrastructures
Threat models for IT and OT systems and communication networks
Cyber-threat detection, classification and profiling, Incident management
Security training and awareness
Risk assessment – safety and security
Security validation, testing platforms and developments
Hardware security, Cryptographic engineering
Intrusion Detection, Intrusion Prevention
Secure Software Development, Malicious Code Analysis
Digital Forensics
Identity and access management
Privacy Enabling Technologies
Healthcare security
Important Dates
| | |
| --- | --- |
| Submission Deadline | May 10, 2022 May 17, 2022 |
| Author Notification | June 05, 2022 |
| Proceedings Version | June 19, 2022 |
| ARES EU Symposium | August 23, 2022 |
| Conference | August 23 – August 26, 2022 |
Program Committee
Habtamu Abie, Norwegian Computing Center, Norway
Manos Athanatos, Foundation for Research and Technology – Hellas, Greece
Dragana Bajovic, University of Novi Sad, Serbia
Hervé Debar, Télécom SudParis, Institut Mines-Télécom, France
Apostolos P. Fournaris, Industrial Systems Institute/R.C. ATHENA, Greece
Samuel Fricker, FHNW Fachhochschule Nordwestschweiz, Switzerland
George Hatzivasilis, Hellenic Mediterranean University, Greece
Greece Dušan Jakovetić, University of Novi Sad, Serbia
Sotiris Ioannidis, Technical University of Crete, Greece
Lucian Itu, SIEMENS SRL, Germany
Odysseas Koufopavlou, University of Patras, Greece
Kostas Lampropoulos, University of Patras, Greece
Eva Marin, Universitat Politècnica de Catalunya, Spain
Evangelos Markakis, Hellenic Mediterranean University, Greece
Xavi Masip, Universitat Politècnica de Catalunya, Spain
Vasileios Mavroeidis, University of Oslo, Norway
Ciprian Oprisa, Bitdefender/Technical University of Cluj-Napoca, Romania
Vassilis Prevelakis, TU Braunschweig, Germany
George Spanoudakis, City University of London, United Kingdom
Christos Tselios, Citrix Systems Inc., United States
Giorgos Vasiliadis, Foundation for Research and Technology – Hellas, Greece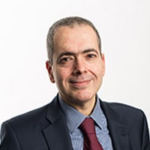 Prof. George Spanoudakis
City University London
Security for Healthcare Services: Needs, Solutions and Challenges
This talk reviews the current state of practice and state of the art in the security of healthcare services. More specifically, it reviews the key security challenges faced by healthcare service providers, the types of security assessments needed, the methods for security risk management, and the landscape of the security solutions available. The latter are reviewed in terms of maturity and the expectations for emerging solutions in the short (1-2 years) and medium-term (3-5 years).
Prof. George Spanoudakis (BSc, MSc, and Ph.D. in Computer Science) is the chairman of the management board of SPHYNX TECHNOLOGY SOLUTIONS AG and a Professor of Software Engineering at City University London and Director of the Centre of Adaptive Computing Systems (CeNACS). His research interests are in software systems security, software engineering and biomedical computing. In these areas, he has published extensively (more than 175 peer-reviewed publications with more than 4100 citations, and an H-index of 33).
Professor Spanoudakis has more than 20 years of expertise in managing R&D projects and has received more than €120m of R&D funding from national funding bodies, the EU, and directly from the industry. In total, he has been the principal investigator of more than thirty FP6, FP7, and H2020 projects at Sphynx and prior to it at City, University of London. In several of these projects, he has been the scientific and technical coordinator (e.g., CUMULUS, EVOTION, CYBERSURE, BIO-PHOENIX, SMART BEAR). Professor Spanoudakis has been in the program committees of more than 190 international conferences and has chaired several of them including, for example, ENASE 2019, SCC 2018, ENASE 2018, SEKE 2007, and SEKE 2006. He has also been a member of the editorial boards of several international journals .