Workshop on Education, Training and Awareness in Cybersecurity (ETACS 2022)
to be held in conjunction with the 17 th International Conference on Availability, Reliability and Security
(ARES 2022 – http://www.ares-conference.eu )
August 23 – August 26, 2022
Call for Workshop Paper – ETACS 2022.pdf
ETACS 2022 – August 23, 2022
The current lack of cybersecurity experts on the world job market is a significant problem that can be solved only by coordinated and focused development of higher education and professional training programs. All topics related to cybersecurity education, training and awareness will be considered for the Workshop on Education, Training and Awareness in Cybersecurity (ETACS). ETACS seeks for novel submissions from academia, government as well as industry contributing to cybersecurity education, training and awareness. The focus is on practical research into higher-education cybersecurity curricula, professional training, building of cyber ranges and their coalitions across Europe, methods to assess and raise awareness in cybersecurity, the implementation of systems, and lessons learned. Furthermore, the EU-wide agreement on the identification of skills necessary for cybersecurity work roles is one of the main interests of the workshop. The event aims at putting together people form universities, professional training institutions, industry, government and EU agencies to discuss current problems and solutions for cybersecurity education and training.
Topics of interest include, but are not limited to
Description and application of cybersecurity skills frameworks
Comparison of existing skills frameworks, contributions to the EU Skills Framework
Description of curricula related to cybersecurity
Lessons learned from a training experience
Lessons learned from the use of a given technology
Publication of a tool related to cyber ranges
Gamification, capture the flag, red/blue teaming,
Piloting cybersecurity study programs and trainings
Feedback on awareness campaigns
Important Dates
| | |
| --- | --- |
| Submission Deadline | April 20, 2022 May 04, 2022 |
| Author Notification | May 30, 2022 |
| Proceedings Version | June 19, 2022 |
| ARES EU Symposium | August 23, 2022 |
| ARES Conference | August 23 – August 26, 2022 |
PROGRAM CHAIR / Workshop Chair
General Chair
Jan Hajny (SPARTA, Brno University of Technology, CZ)
Co-Chairs
Tanja Zseby (TU Wien, AT)
Giuseppe Bianchi (Consorzio Nazionale Interuniversitario per le Telecomunicazioni, IT)
Rashel Talukder (Polish Platform for Homeland Security, PL)
Rocco De Nicola (IMT School for Advanced Studies Lucca, IT)
Sara Ricci (Brno University of Technology, CZ)
Program Committee 2022
Olivier Levillain (Télécom SudParis, FR)
Marc Ohm (University of Bonn, DE)
Pavel Loutocky (Masaryk University, CZ)
Pedro Adao (University of Lisbon, PT)
Sergej Proskurin (Technische Universität München, DE)
Edmundas Piesarskas (Lithuanian Cybercrime Center of Excellence for Training, Research & Education, LT)
The workshop is supported by the European Union's Horizon 2020 SPARTA project #830892 and the Ministry of the Interior of the Czech Republic under grant VJ01030001 (International Partnership for Cybersecurity Skills Training).
Cybersecurity Skills Gap: ENISA Analysis and Actions
Fabio will provide a holistic view on the nature and characteristics of the skills gap in Europe and the results of the joint effort done with other EU players (eg. the pilots of the EU Competence Network). He will report on the European Cybersecurity Skills Framework (ECSF) which aims to close the cybersecurity skills' gap on the European labour market, building comprehensive bridges between European workplace context and learning environment through an EU skills framework.  He will also provide insights on the cybersecurity higher education database (CyberHEAD), an initiative to allow young talents to make informed decisions on the variety of possibilities offered by higher education in cybersecurity through an easy-to-use web portal.
Fabio Di Franco is currently leading the activities in ENISA on cyber skills development for highly skilled people. He is also responsible for developing and delivering trainings to EU member states and EU institutions on information security management and IT security. Fabio has a PhD in telecommunication engineering and is a Certified Information Systems Security Professional (CISSP).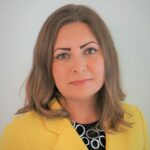 Dr. Yulia Cherdantseva
Senior Lecturer at the School of Computer Science & Informatics at Cardiff University
CyBOK – The Cyber Security Body Of Knowledge
Cyber Security Body of Knowledge (CyBOK) is a major project sponsored by the UK National Cyber Security Centre with the aim of developing a substantial resource offering a guide to the Cyber Security as a discipline and as a field of professional practice.  CyBOK codifies the foundational knowledge in cyber security for education and professional training.  It is an open and freely accessible resource (www.cybok.org) developed by the Community for the Community with contributions from over 115 experts across the world since 2017. CyBOK v1.1 is constituted by 21 knowledge areas. There are also free supplementary resources for students, educators and trainers, e.g. podcasts, resources for developing programmes based on CyBOK, lab materials, case studies for use in classroom, etc. This presentation will describe the process of developing CyBOK and maintaining it up to date, discuss the role of the international community in this process, outline the use cases of CyBOK and the future directions of the CyBOK project evolution.
Dr. Yulia Cherdantseva is a Senior Lecturer at the School of Computer Science & Informatics at Cardiff University. Yulia worked as a lead researcher on the project "Supervisory Control and Data Acquisition Systems Cyber Security Lifecycle (SCADA-CSL)" funded by the Airbus Group Endeavr Wales and the Welsh Assembly Government, where she developed a novel SCADA Cyber Security, Safety and Risk (SCADA CSSR) graphical extension for BPMN 2.0 and a configurable dependency model of a SCADA system. In 2020-2021, she led an NCSC and RISCS funded project about cyber-security decision-making by SMEs which resulted in the development of the Best Practice Guide for SME in Cyber Security Investment Decision-Making. In 2021, she was awarded an EPSRC grant for developing a framework for risk-informed and metrics-enriched cybersecurity playbooks for enhancing CNI resilience. Yulia is a cyber skills lead at the School and is interested in cybersecurity education from the primary school up to professional development level. From May 2021, Yulia is a member of the CyBOK Executive Board. Yulia is passionate about equality and diversity in cybersecurity – she is a member of the CIISec's Steering Committee "Women in Cyber" and of the CREST's working group on Inclusion and Diversity.